Delivery
Please be aware that it is the responsibility of customers to ensure your purchases will fit through your doors, hallways and up any stairs.
Our delivery service is to your front door, and whilst the team will attempt to place items in the rooms you require them, they do have the right to refuse delivery if they feel the item will not go in to the property. Items that are returned undeliverable will be issued with a credit note, minus the delivery charge.
Any items that need assembling upon delivery are the responsibility of the customer. Unfortunately we do not have the time or resources to be able to do this.
It is the customers' responsibility to ensure any cookers, washing machines or dishwashers are installed by a certified electrician or plumber.
Donations
We can collect:
White goods under 10 years old and in good working order (must be disconnected & ready for collection)
Flat screen TV's in working order with remotes
Sofas, armchairs, 3 piece suites
Tables and chairs (sets preferably)
Standard size wardrobes (6ft by 4ft)
Chest of drawers and book cases
Bedroom furniture - bedside cabinets, small modern dressing tables, stools, mirrors
Bed bases, divans, mattresses, headboards (any bed frames must be disassembled ready for collection)
We require that any upholstered furniture needs to be in a good clean condition without any rips, stains, fading or any structural damage.
There must be a fire safety label attached to each upholstered item as detailed below: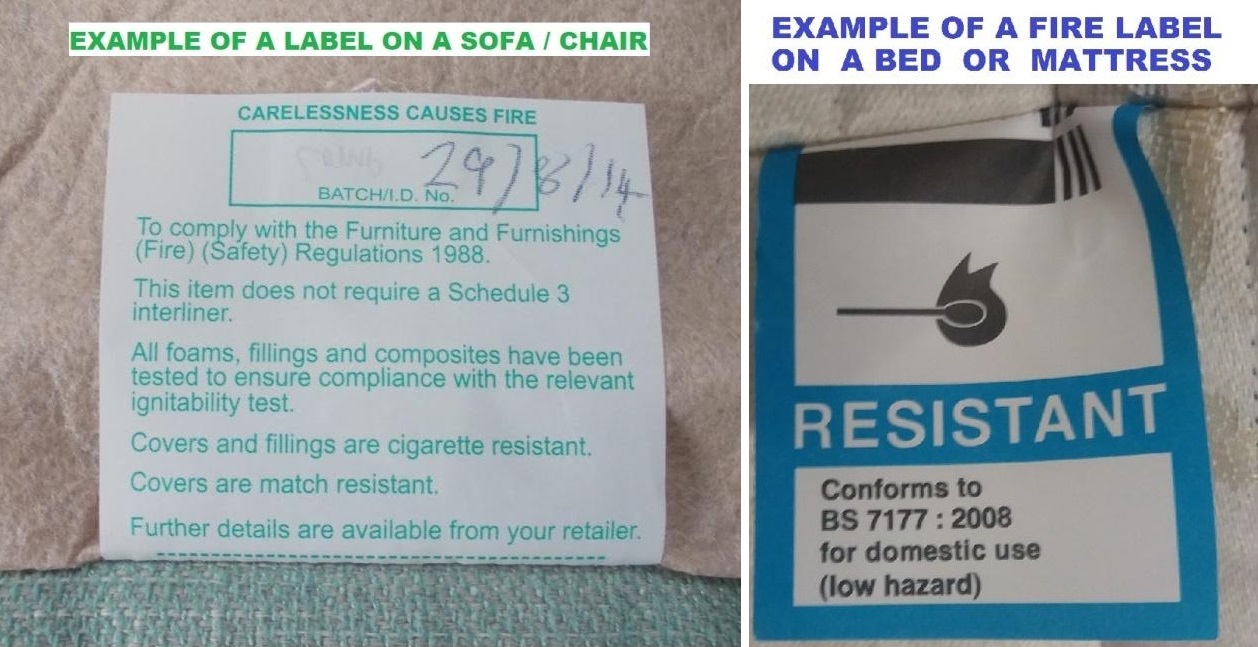 We cannot collect:
Display cabinets, wall units, kitchen units, bureaus
Oversized items of furniture over 6ft 5 tall and 4ft wide (e.g. floor to ceiling wardrobes)
Any furniture (except bed frames) that has been disassembled
You can bring items to us and we can make a decision as to suitability upon arrival.
Unfortunately we cannot offer a full house clearance service.
The driver & crew on the day of collection will always have the final say on suitability of items being offered as they get to see the overall condition. We do not guarantee to take all items that are being offered. They have the right to refuse and are unable to dispose of items for you.